We already have users placing orders in 45 states and growing!
Your business delivers products your customers need on an everyday basis. As your warehouse and outlying retail stores are busy places, it can be a challenge to ensure that the right products are at the right places. Simplify your product ordering and inventory management efforts with EZCloudSales®. Our company provides a powerful online application that allows you to generate logical orders, manage your inventory and create better value for your customers.
Order fulfillment has never been faster or easier. The EZCloudSales® suite allows you to keep track of your inventory, schedule orders and shipments, and manage your communications . On top of that, we have a fully trained support staff to help you set up and use the application to its fullest potential. Work smarter and enhance your productivity. We give you the tools to complete the job.
Smart Design, Smarter Management
Automation and intuition combine to deliver a powerful online order fulfillment solution. EZCloudSales® may be implemented in your warehouse or retail outlet to maximize your business's flexibility. Since everything is online, you are free to access the application virtually anywhere you see fit. The EZCloudSales® solution provides a wealth of advantages, including:
Reduce Product Shrinkage
Enhanced Inventory Controls
Efficient Ordering and Accountability
System Automation
Real-Time Inventory Tracking
Accessible from Any Internet-Enabled Device
Inventory Control at Your Fingertips
Save time and increase your productivity. The EZCloudSales® system puts the entirety of your inventory at your fingertips. Simply list your products into your own customizable database, and see how easy it is to keep track of your sales, deliveries, shortages, and overstocks. Additional control measures include:
Instant Item Search
Product Image Capture
Cross-Platform Compatibility
Paperless Inventory Spreadsheets
Clear Fields for Accurate Entry
"Sanity Check" Entries Prevent Ordering Mistakes
Automatic Error Detection in the Event of Inventory Count Errors
Grouping by Department or Category
Adaptable to Your Business
Your products are unique, and your customers count on you to provide what they need. Choose an inventory management system that acknowledges your specific needs and clientele. The EZCloudSales® system may be configured to track a wide selection of product types, including: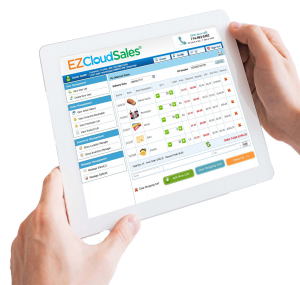 Baked Goods
Dairy
Snacks
Frozen Foods
Soft Drinks
Assorted Beverages
Wine & Spirits
Beer
Meat
Produce
Office & Cleaning Supplies
Promotional Material
Ordering is a Breeze
Know your inventory levels at any time. The EZCloudSales® application allows you to implement a management/hierarchy system that provides total control over your inventory. Authorize or deny changes to par and buildup numbers, or choose who gets to edit orders. The choice is yours. Powerful algorithms can even use your order and sales history to suggest orders on a scheduled, automated basis. Other convenient features include:
Order and Usage History
Delivery Date Tracking and Cutoff Times
Track Spoilage of Perishable Goods
Prompts for Product Ordering Lead Times
Minimum and Maximum Order Threshold Settings
Always-On Ordering – Enable Ordering at any Hour of the Day
Automatic Order Placement
Real-Time Email Order Confirmation
Effective Solutions with Proven Results
EZCloudSales® has a reputation for being Easy, Quick & Clean™. Customers love its intuitive interface and controls, as well as its seamless integration into their inventory and back-end systems. Its fast operation allows you to stay in touch with your customer base. Build loyalty and maintain the reputation of your company with EZCloudSales®. Our technicians are standing by to help you make the most of your operations.
Contact us today to learn about our online order fulfillment suite.